News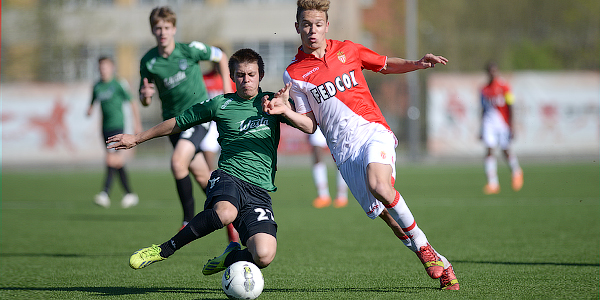 24 april 2014
News
Draw in the match Krasnodar - Monaco
Теги:
KRASNODAR
MONACO
Monaco – Krasnodar – 1:1
Goals: Etienne - Gadziev
The match "Krasnodar"-"Monaco" was really eventful. Rough-and-ready back pass of one of the French footballers in the 1st time turned into the clear-cut for Russian team, which the "citizens" implemented.
Nurik Gadzhiyev made a great bottom kick to the closest corner. After Knasnodar one up "Monaco" added in attack and several times the team broke a rival's defence, missing seemed 100 % moments in scoring. The situation didn't change much after the brake: red-and-white were very prodigal to their chances, still they leveled the score – a beautiful play near the penalty area finished with the goal from the goalmouth corner. In the dyining minutes "Krasnodar" was close to the victory, earning the penalty after the Drame's fall. Andreani, a Monaco's goalkeeper didn't allow Nurik Gadzhiev, the first goalscorer of the match, to make a goal from the 11 m point, finishing the kick the ball hit the cross-bar of emty goal and bounced back to the field.
Nurik Gadzhiyev, "Krasnodar" U-17 footballer:
- After the fast goal our opponent changed the game and answered with a goal. Missed chance didn't let us to ensure a victory, after the penalty we allowed "Monaco" more and they had several clear-cut at the end.
Of course, we broke down, but the other matches we'll play only for win.
Yohan Etienne, "Monaco" U-17 footballer:
- In the first match against "Blackburn" we lost because of the scoring, I'm very dissapointed I didn't score yesterday. Today we did a lot we planned, the second time we played well, we leveled the score. Today the opponent was worthy and we spent a lot of effort playing against "Krasnodar".