News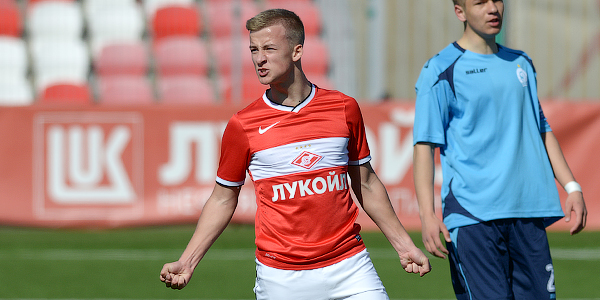 25 april 2014
News
"Spartak" is at the top of the table after the third round
Теги:
DINAMO
SPARTAK
Spartak – Dinamo Minsk – 2:0
Goals: Sidoruk, Malikov
Moscovites gained the second victory on end on the International Youth Tournament "Spartak Cup". Today Vladimir Beschastnykh's team prevailed over Minsk "Dinamo".
Red-and-white scored a fast goal in the third match in a row. At the 7th minute Shanbiev made a pass from midfield to Melkadze to the wing, he crossed to Malikov who was in the penalty area. Dmitry dribbled the ball and scored – Artem Belyi, a Minsk goalkeeper, parried the forward's ball, though he was powerless when Egor Sidoruk came to finish off the ball.
A little bit earlier the author of the goal shot over the goal from the penalty area, opting not to make pass to the open player - Malikov. In counter-attack "Dinamo" forgave "Spartak": Minsk player didn't score after the partner's volley to the penalty area.
Belorussian team played very aggressive against "Spartak", which owned the play and field advantage. In middle of the time after the contact fight Sidoruk was injured, he continued playing after the medical care. But in the brake he was substituted. After match concluded, it came out that the midfielder had a nose fracture and he wouldn't participate in the rest matches. Numerous Dinamo fouls let red-and-white try themselves at free-kicks. The most of them were dangerous but didn't achieve the aim until the opponents brought Malikov who was forcing through to the goal down. Dmitriy confidently scored the penalty, removed all the questions about the match winner.
After three rounds "Spartak" is at the top of the table with seven points – the hosts of the Cup are leading in additional indicators (number of scored goals), they left behind their tommorow's rivals, footballers from English "Blackburn".