News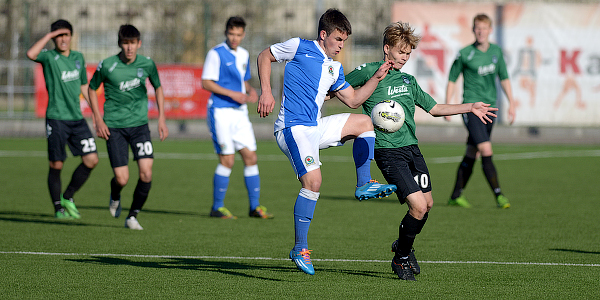 25 april 2014
News
"Krasnodar" again played a draw, withdrawing "Blackburn" points
Теги:
BLACBURN
KRASNODAR
Krasnodar – Blackburn – 1:1
Goals: Gadzhiev - Doyle
In the first half the Russian team played in advance due to the scored penalty. After the English foul in the penalty area Nurik Gadzhiev came to the ball. Krasnodar footballer, who on the eve didn't score from the spot, that time was accurate in his shot.
"Blackburn" equalized the score after the brake. The citizens kicked the ball after the free-kick in the midfield off, one of the English after picking the ball up, made a volley to the Krasnodar's goal and after the string bounces Jake Doyle didn't blunder from his right position in the penalty area.
Jake Doyle "Blackburn" U-17 captain
- We had a chance to win, but unfortunatly not everything had turned out well. We tried to attack more at the second half. As for "Krasnodar", the team controles the ball well, has well technique and it wasn't easy to keep their attack back.
We're dissapointed after this draw but not really, because we have a chance to return the top place in the table. We'll prepare before the match against "Spartak", discuss the opponent's game. And tomorrow we'll come to the field concentrate and with perfect spirit.