News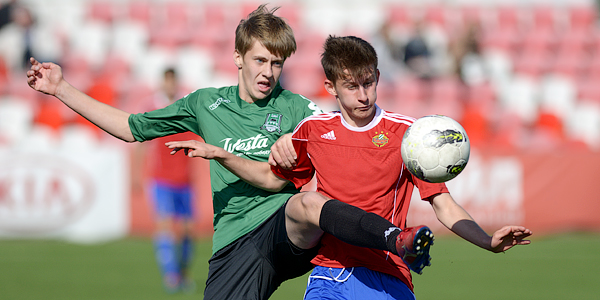 25 april 2014
News
"Krasnodar" goes without defeats, "Rapid" gets its first scores
Теги:
KRASNODAR
RAPID
"Krasnodar" and "Rapid" played a draw on the 4th round of the tournament "Spartak Cup".
Krasnodar – Rapid – 2:2
Goals: Gadzhiev, Minkov – Oppong, Sobczyk
After three rounds Krasnodar footballers, who played previous matches a draw were the favourites of this match, Vienna team came to this match without points.
However "Rapid" made a stir, twice during the match they led in score and they had more clear-cuts in the game.
At the beginning of the match the Austrians played their free-kick in a wall, than they rolled a ball past defenders right to Oppong and Samuel, whom the goalkeer couldn't prevent, opened the score.
The beautiful goal of Nurik Gadzhiev from the free-kick helped "Krasnodar" to win back in the second half.
Late on "Rapid" again played in advance: Zeljko Radovic's players after robbed the opponents in the center field rushed through the citizen's defensive redouts whereupon Oppong, the author of the first goal, wasn't greedy, he passed to Sobchzhick, who scored. Alex could score twice, but he missed from the vantage position
"Krasnodar" even couldn't imagine the idea to be beaten and the attack of the rival's goal in the dying minutes finished with the goal of Yakov Minkov.
The chief refree of the match firstly nullified the goal, but after speaking with his assistants showed to the center of the pitch. The end of the match was really nervous – there were four red cards, one of them was at full-time, others at extra time. It means "bulls" will play the last match without Maltsev, Zorin and Cherchesov and the Austrians without Oppong.
Samuel Oppong, "Rapid" U-17 footballer:
- The match was really tough, we made a lot effort. I think we played well and had a lot of clear-cuts. Pity we can't score all of them. The match was rude because both teams wanted to win.
A draw result is also a shame for us the same like for "Krasnodar".
Yakov Minkov, "Krasnodar" U-17 footballer:
- The coach setting was to win, that is why we're dissapointed by the result. "Rapid" played rude, and we too, in the similar mannere. Our team doesn't get used to defeat, therefore we were fighting to the end and equalized the score.