News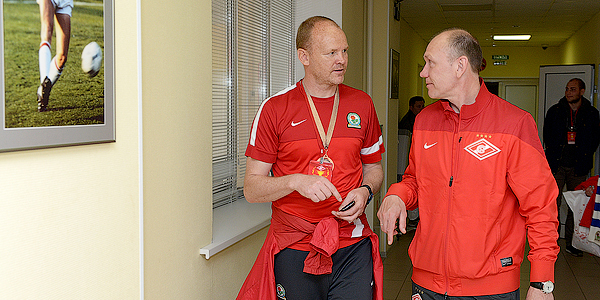 13 may 2014
News
Blackburn U-17 coach: ""Spartak Cup" promotes our footballers' progress"
Теги:
BLACKBURN
BRIAN CAREY
"Blackburn Rovers" team became the bronze medals winner of "Spartak Cup" 2014 and by the results of the tournament they got a people's choice award. Brian Carey, a Blackburn U-17 coach, shared his opinion about the tournament in the interview:
- We're quite satisfied with the result, which our team showed. We won twice on the start of the tournament and we were close to come to the victory in the general table. The last matches didn't turn out well, but it was the fault of circumstances and not the game's content. In two final meetings when we played in a short-cut line-up because of the series of injures. We didn't think to win those matches, it was important to study and to get new experience.
- What aims which you set on the eve of Spartak Cup did you achieve?
- For us an educational aspect, a progress and an opportunity to win were important. In that case mighty experience we gained was more valuable than a victory and final results. All our lads want to become professional footballers and to gain the goal they need progress. Also for us it's very important that Blackburn's players taught a lot in away tournament. The matches in unaccustomed atmosphere with new rival far away from home let them learn footballers better.
- What exactly did your pupils learn during the tournament?
- I haven't asked them yet, but we'll speak about it, what they got out of "Spartak Cup". Everyone will mention something different: tactics, technics, and experience of playing far away from home… I don't know but looking at them I can confidently say there was no tournament that went in vain for them. We are trying to study every day, to aim that our pupils get knowledge in every game, during training. Boys learn by their mistakes and "Spartak Cup" didn't turn out without them. These mistakes we'll analyze, but firstly we will offer footballers to find all the answers which they had after the tournament without assistance - anyway we try to prompt, but we never give ready decisions.
- Share your opinion, please; what do you think about the opponents, can you pick out some general tendencies?
- We opened the tournament with match against Monaco. This team made a good impression on us, they had an excellent attack group, at the same time Monaco's defence was weaker. If to speak about "Spartak", Muscovites have a n interesting defence group. I'm impressed by the game of Spartak captain Georgiy Melkadze. Many opponents were similar: they had good tactics, but there weren't a lot game variations, we're surprised by the goalkeepers' bad play in some of the teams. I think, the tutors of the teams, which played for the championship, are satisfied with their footballers. In England team play another manner, which differs from the manner the teams played on Moscow tournament, that's why it is a great experience for us, we're glad to get it.
- Everyone was surprised by the football you played, it wasn't typical power English football: you played in pass and controlled the ball…
- During the match against Spartak Academy we discussed this question with Moscow colleagues, I said that there're lots of teams which played in pass and didn't make an accent on power football. Stake on power football in our country is a myth. We can play different style football, but on the educational stage it's necessary to show guys that the most important thing is to own the ball, to control it. The team that took part in "Spartak Cup" is a mixture of two teams – U-16 and U-17 – players didn't play together well enough, because they played together at the first time. It's important they taught to interact together and they embodied Blackburn Rover's football values.
- Spartak Academy held a special presentation about its work. Did you mention something in common and what are the key differences in your work?
- First of all, I would like to thank Spartak colleagues for the opportunity to learn more about Academy and for their openness. Such a presentation was very useful for us. If to speak about the differences, Spartak had four steps in preparing young footballers, we had three groups: 6-12, 12-16, 16-18 years old. Spartak pupils mostly live at home, in our Academy everyone 16-18 years old without exceptions live in the Academy. Of course, to that age young people can a lot in football, but their identity continue to develop and their home life promote it better. I'll underscore Blackburn pay serious attention to footballers' development. General education of pupils is also very important for us like for "Spartak". Usually 16 years old children go to school and spend one full day at academy, the others they study at ordinary school and have practice in the evening.
Youth guys at the age of 16-18, who live in the Academy on the constant basis, also study: some days are devoted to the general education, others to professional. It's necessary not only to teach them to play football, but also to give them good education. That is why in our delegation there is Stuart, who is responsible for education, in my opinion he makes a big deal.
- Did your pupils like Moscow?
- They were amazed at they saw. Boys really enjoy the trip. The day-off was at the time when the team needed a rest, including psychological. Nobody has ever been to Moscow before; they said this is a city with an interesting history and great architecture, a city of great opportunities, which is rich with the sights. It was a good day in Moscow, nice weather and an interesting excursion gave us a lot of bright emotions.

- With what impressions are you leaving Moscow?
- Of course, we had unpleasant moments with injures, but it can steal nothing from the mazing week, which we spent there. All the boys, who had injures, can recover soon. Spartak Cup let them learn a lot not about Russia and Moscow, but also something about themselves. I would like to thank everyone who organized this tournament, for hospitality and great organization. Special thanks to our brilliant attendants, who were ready to help in any moment.